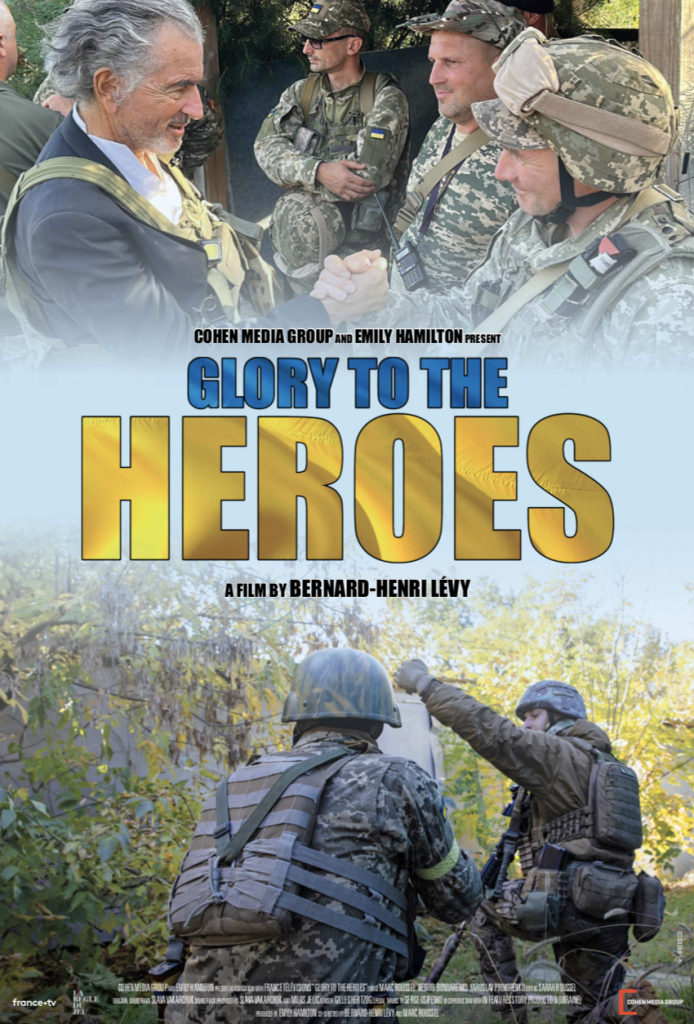 Bernard-Henri Lévy
---
Glory to the Heroes
Director: Bernard-Henri Lévy
Film maker: Bernard-Henri Lévy, Marc Roussel
Producer: Emily Hamilton
Production: La Règle du jeu
Release date: 8 December 2023
Duration: 93 minutes
In June 2023, Russia destroys the Kakhovka dam in southern Ukraine and commits an unprecedented ecocide. In response, French philosopher and filmmaker Bernard-Henri Lévy returns to Ukraine to capture Ukraine's deep humanity despite the dire conditions, and a civilian resilience and resistance unlike any other.
In Glory to the Heroes, Lévy, along with his co-director Marc Roussel, spends the summer in eastern Ukraine recording for the world a passionate ode to Ukraine's courage on the battlefield while also depicting the overwhelming sorrow sowed by Russia's continuous attacks on civilians. On the ground during the Ukrainian counteroffensive, Lévy and Roussel embed with elite forces on the frontline. With unprecedented access, they capture the horrors of war, the hopefulness of the Ukrainian citizens and their optimism in the face of senseless destruction.
Lévy has brought to the world a film that, now more than ever, is a painful reminder that this war is our war and it's time for the West to urgently give Ukraine everything it needs to win.